How to Choose a New Dentist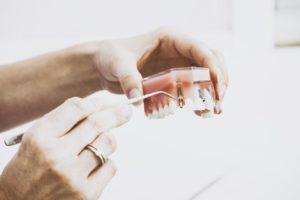 When choosing a new dentist, it's important to consider what your health benefits entail and what features, in a dentist and dental office, are most important to you. Your dental health is a vital part of your overall health. A dentist and their dental office environment should make you feel comfortable and safe. It should be a trusted place that you can drop in for a regular visit, procedure or emergency.
Dental Health Benefits
Insurance plans vary widely and your choice of dentist is usually limited to what choices your health plan provides. For example, dental HMO's limit your choice of a dentist to a specific network of doctors. With a PPO plan, different dentists can determine your copayment amounts. Learn about your insurance plan and what limitations or in-network dentist's are covered before choosing a new dentist.
Recommendations
One of the best ways to find a suitable dentist is to ask family and friends for a recommendation. Your physician can also provide a referral. You may specifically inquire about dentists who are members of well-known professional associations, such as the American Dental Association (ADA). If you're looking for a Buffalo Dentist East Amherst Dentist, there are many options and many are ADA members.
Accessibility
Accessibility is important when choosing a new dentist. Your dentist should be located in a convenient area, either near your workplace or home. It is also ideal to find a dentist with a flexible schedule, including office hours on Saturday. Allowing more leeway for appointments and emergencies, a Buffalo Dentist East Amherst Dentist should offer excellent availability.
Consultation
The best way to evaluate a new dentist is to schedule a consultation. Once you compile a list of prospective dentists, call or visit several before making a formal appointment. Consider the in-office procedures offered, how far in advance an appointment must be made, how credentialed the staff is, if they are a member of the American Dental Association (ADA) and any other relevant information.
Services
Depending on what your needs are, some dentists may offer newer technology and more advanced dentistry methods. Consider what you might want done in the future and what you might need done currently before evaluating the services offered by a new dentist. Services offered by Buffalo Dentist East Amherst Dentist vary. For example, the East Amherst Dental Center offers everything from root canals to teeth whitening. Some of the most popular services include:
Invisalign Clear Braces
TMJ Treatment
Root Canals
Veneers and Laminates
Teeth Whitening
Dental Hygiene and Consultation
Composite Tooth-Colored Fillings
Mouth Guards
Tooth Extraction
Provisional Restorations
Partial Dentures
Crowns and Bridges
Dental Implants
Dental Sealants
Inlays and Onlays
Sedation Dentistry
Evaluate Your New Dentist
Once you've done an initial visit with a dentist, it's important to thoroughly evaluate the experience. Wait time, cleanliness, how courteous the staff was, if the office was child-friendly, if private medical history is handled with care and any other pertinent information should be considered. All areas of a dental visit are relevant when choosing a new dentist.
A major part of your health, your dental needs should be provided by an experienced professional. Your new dentist should be accessible, offer a variety of in-house services, be available for a consultation and provide any other features and benefits you that are important to your needs and dental goals. If you're looking for a Buffalo Dentist East Amherst Dentist, the East Amherst Dental Center might be the right fit. Contact the East Amherst Dental Center directly for more information.