COVID-19 Precautions & Dental Importance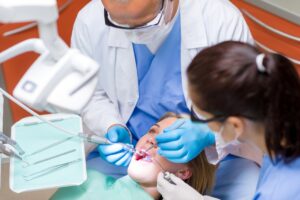 COVID-19 has impacted almost every aspect of our lives. This includes feeling comfortable going to our regular appointments at the dentist, physicians, and more. However, your dental health is closely associated with your overall health, and it's a top priority that you maintain your oral health. The Centre for Disease Control and Prevention (CDC) released safety guidelines that dental offices can follow to reduce the risk of COVID-19 infection for patients. The CDC has also reported that they have not traced any case transmission back to a dental office.
How East Amherst Dental is Keeping Patients COVID-Safe
If you're looking for a Buffalo dentist, East Amherst Dental Center is your top choice for a COVID-safe appointment. We've taken the CDC safety tips very seriously and have implemented several precautions, including:
Screening patients before they come in for their appointment to verify patients present without COVID-19 symptoms, have not recently traveled outside of the state, awaiting COVD-19 test results or have been exposed to anyone that has tested positive.
Screening staff for signs and symptoms of COVID-19. This includes taking temperature checks on everyone.
Staff wears Personal Protective Equipment (PPE) at all times.
Patients are asked to wear masks in the building and when they are not having treatment performed.
One way traffic through the building was designed to enhance social distancing
A limited number of patients are allowed in the waiting room at one time. Patients are asked not to enter the building until their appointment time and to come alone if possible.
All toys, magazines, and other shareable items have been removed from the waiting room.
Increased sanitation in waiting room and patient bathroom.
Hand sanitizer is available throughout the building.
Protective shields have been installed between the receptionist and the waiting room.
Patients are asked to remain a six-feet distance from others at all times.
Hospital-grade air filtration system was installed into the ventilation system.
Pre-procedural mouth rinse will be done prior to cleaning.
Contactless payments can be made
All patient information is taken, so everyone could be notified if there ever was a COVID outbreak.
Why Your Dental Health Matters
It can be tempting to push your dental appointments to the side right now, but you shouldn't ignore your oral health. Many people don't understand that poor dental health can have extremely negative and long-term consequences, such as:
Healthy Gums Result in a Healthier Heart: Studies have shown a link between gum disease and an elevated heart disease risk. People with periodontal disease are twice as likely as having a heart attack than those without periodontal disease. They are also more likely overall of having heart disease. One of the reasons why is that gum disease increases inflammation in the body and inflammation is a significant risk factor for heart disease.
A Healthy Mouth Equals a Healthy Pregnancy: There is some evidence that women with poor oral health may be more at risk of delivering pre-term, low-weight babies.
Gum Disease & Diabetes: If you thought heart disease wasn't enough, people with gum disease are more prone to having diabetes. Additionally, new data suggests that severe gum disease can actually contribute to diabetes, as it affects blood glucose levels.
Oral Cancer Early Detection: Regular check-ups at the dentist mean that if you were ever to have oral cancer signs, your dentist would catch it early. This would give you a better chance of a full recovery.
East Amherst Dental: The Amherst Dentist You Can Trust
At East Amherst Dental Center, we provide quality dental care while keeping our patients safe. We take COVID-19 precautions very safely and have followed the CDC's recommendations. Don't ignore your dental health any longer; book an appointment for a check-up today.