Cosmetic Dentistry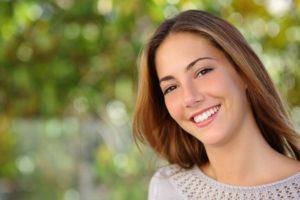 East Amherst Dental Center is committed to helping you look, feel, and smile the best by providing Cosmetic Dentistry in Buffalo.
What Is Cosmetic Dentistry?
Cosmetic dentistry generally refers to any dental work that enhances the appearance and functionality of a patient's teeth, gums, and bite. Its primary focus is on ameliorating dental aesthetics in color, size, shape, alignment, position, and general smile appearance. Cosmetic dentistry encompasses endodontics as well as periodontics and primarily involves:
Adding of dental materials to teeth or gums, e.g., gum grafts, bonding, crowns(caps), and porcelain veneers (laminates), to mention a few.
Removal/extraction of part of tooth structure or gums, e.g., Gingivectomy and Enameloplasty (tooth re-contouring)
Teeth-straightening, which is complemented by an improvement in face appearance— generally known as orthodontics.
Changing tooth and gum coloration, e.g., zoom whitening, laser whitening, and gum depigmentation.
Common Treatment Option
Zoom Teeth Whitening
Zoom Whitening is the most recommended and effective procedure to lighten discolored teeth. The zoom process lasts for about an hour that uses a special Zoom light that focuses on breaking up stubborn stains and discoloration.
Dental Implants
Dental implants are prosthetic substitutes for missing teeth that are placed into the jawbone to form "new" teeth roots. Dental crowns are then placed on the implants to create new, natural-looking teeth that complete your beautiful smile.
Veneers
They are ultra-thin, custom-made porcelain laminates for the cosmetic dentist's repertoire. The wafer-thin shells are bonded directly to your teeth to close gaps between teeth, enhance shape, and change teeth color that is not responding to whitening procedures. Veneers can turn the most damaged smiles into dazzling ones!
Bonding
Bonding is a painless procedure of making minor repairs to teeth by using composite resin (an enamel-like dental composite) to restore the size of a broken tooth, match teeth, build up and fill teeth, and paint over stained teeth to match the color of other teeth.
Other treatment options include:
Reshaping
Gum Lifts
Bite Reclamation
Bridging
Straightening
How Cosmetic Dentistry Can Improve Someone's Smile
East Amherst Dental Center is dedicated to correct any aesthetic imperfections in your gums, teeth or both. Our office provides the ultimate solution to giving patients the natural-looking results they deserve by helping them achieve the perfect smile they've always been admired. Cosmetic dentistry procedures begin with a smile consultation. Our dentist will then discuss any concerns that a patient may have about the process, different cosmetic dentistry treatment options available and the expected results.
Once the consultation is complete, our team of seasoned experts will carry out the chosen procedure with state-of-the-art equipment and industry-leading cosmetic dentistry techniques to craft not only a natural looking and seamless smile but one that is long-lasting and comfortable as well.
By the end of the procedure, our best cosmetic dentists will have fixed your missing, worn or discolored teeth. By making your mouth healthy and your smile the best it can be, we believe we'll have improved the quality of your life in a significant way as a beautiful smile always emanates pride, splendor, beauty, and confidence.